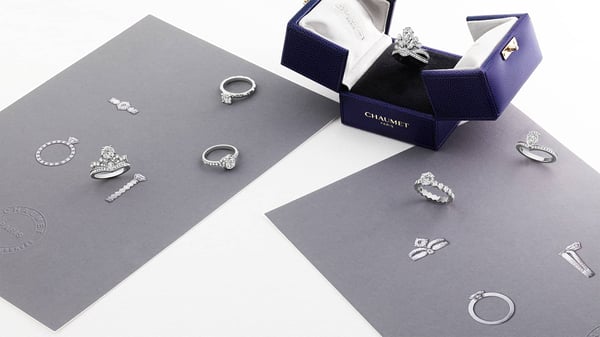 Contact Details
Address
Centre Commercial Cap 3000
06700
Saint-Laurent-du-Var
FR
News from Chaumet
Reopening of 12 Vendôme

The Maison's historic address, the hôtel particulier at 12, place Vendôme, in the heart of this mythical Parisian place, opened its doors to the public on 27 February 2020 following renovation that took one year.

The new Boléro watch

Clad in elegant, sensual gold, Boléro, the new ladies' watch from Chaumet, shows all the allure of modern women who choose distinction.

Liens Évidence

With Liens Évidence, Chaumet expresses its contemporary vision of sentimental jewellery. This iconic collection is growing, with the arrival of new designs in gold and with diamonds.

Joséphine Aigrette Stackable Rings

Stack and mix and match the new additions to the Joséphine collection.

Chaumet at the Grand Prix de l'Horlogerie de Genève

Three Chaumet timepieces have been shortlisted for the 18th edition of the Grand Prix de l'Horlogerie de Genève. These precious watches represent a melding of technical expertise, jeweller savoir-faire and poetry.

Chaumet Volume 3 - Assouline

Chaumet's library welcomes a third box-set of three books published by Assouline. Celebrating the High Jewellery collections and two of the Maison's founding themes, these works mark an annual invitation to delve into Chaumet's culture.
Featured Products at
Ferret
Jewellery

For more than 230 years Chaumet's excellence in High Jewellery has been bequeathed from one master jeweller to another. Diamonds and precious stones are carefully selected for their exceptional purity and sparkle. Then, the jewellers, stone setters, polishers and engravers give life to the jewel. Discover our Jewellery collections: rings, necklaces, bracelets, earrings and tiaras in gold or in platinum.

Watches

For more than two hundred years, Chaumet has dedicated its jewellery excellence to the creation of exceptional timepieces. The Maison knows how to combine the best Swiss watchmaking craftsmanship, tradition and complex movements with the Parisian refinement it masters so well. Precise and precious, these timepiece creations have become true icons.

Bridal

For more than two centuries, the Maison Chaumet has been loyal to its tradition of "Jeweller of Feelings", through exceptional tiaras and bridal sets, authentic pledges of love.